Concrete Pumping
BLT Companies operates Schwing Concrete Pump Trucks, extending to 52 Meters.
How Does a Concrete Pump Truck work?
A concrete mixer truck backs up to the back of a pump truck and discharges its load into the hopper. The hopper feeds the concrete through a pump which applies pressure to a column of a pipe, forcing the concrete through a lubricated hose.
Concrete pumps are often used to reach places that are difficult or impossible to reach by other concrete placement methods, such as backyard swimming pools or high-rise buildings. Pumping is also used when the space available for construction equipment is limited. Approximately 1/4 of all concrete placed in the United States is placed by concrete pumping.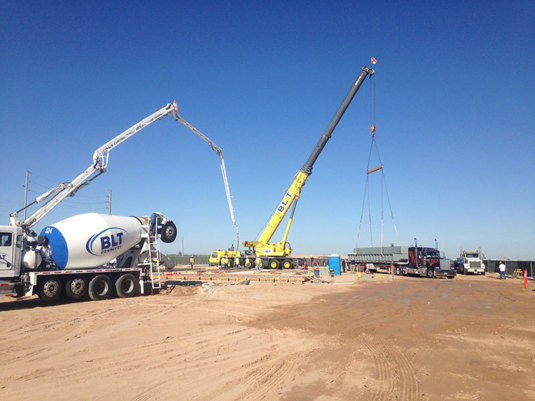 What are the advantages in using Concrete Pump Trucks?
Pumping placement is faster than placement by other methods (wheelbarrow, tailgating, or a skidster loader)

Pumped concrete can be placed in areas that are difficult or impossible to reach by other placement methods.

Pumping often results in a savings in manpower, equipment cost and cycle time.

Pumping can take place under any weather conditions, including snow and rain, since the concrete is protected from the elements during transport to the placement area.

Pumping can be used when the space available for construction equipment is limited.

Pumping concrete frees cranes and hoists for other construction operations, such as delivering materials.

Pumped concrete can be easier to handle because the flow of concrete is directed to the exact spot of placement (whereas cranes and conveyors deposit large piles of concrete that must be moved manually).

Few obstacles can block a concrete pumping pipeline. Pipelines can corner sharply, pass through narrow spaces, travel over or under walls, etc.

A continuous supply of pumped concrete can help set a steady work pace for the placement crew, thereby increasing productivity.

A contractor can vary the placement speed or add lines to fit the pace of the job.

Flow of concrete remains steady and controlled.

Pumping concrete allows a contractor to place floor slabs on upper floors before completing the concrete work on lower floors. This provides protection from weather when working on lower floors.

For large pours, multiple pumps can be set up, allowing several trucksto discharge at the same time.
Concrete Pumps can place up to 220 yards of concrete Per Hour.
Effective pumping distances range from 10 feet to 1000 feet horizontally, as well as from 10 to 1000 feet vertically.
Concrete Pumping Equipment required: concrete pump, heavy-duty pipe, hose, accessories.
The most important considerations relating to the pumping of concrete are:
The concrete mix design
The pump location
Concrete Mix Design for Concrete Pumps
The concrete mix design must be correctly proportioned so that the concrete will flow easily and uniformly through the pipe. The pipeline diameter should be 3-1/2 to 4 times greater than the maximum aggregate size for pumped concrete. This helps ensure that the pipeline will not become clogged. Another factor in mix design is the slump of the pumped concrete. A higher slump will cause concrete to flow more readily, making the concrete easier to pump.
However, an excessively high slump can cause the concrete to separate, resulting in plugs in the pump or line. What makes concrete pumpable? Pumpable concrete can be pushed under pressure through a pipeline as a cylinder, separate from the pipeline wall by a lubricating layer of water, cement, and sand (mortar). A concrete mix must be such that the concrete can pass through reducers in the pipeline system, and can go around bends in the line. In order to obtain this type of pumpability, the mix must be dense, cohesive, and have sufficient mortar. (Mortar required depends on the line size, efficiency of concrete pump, and pressure available for pumping concrete).
Concrete Pump Location
The most important consideration relating to pump location is pump accessibility. Ideally, space for two concrete trucks - one unloading and one ready to unload - should be provided at the pump hopper. Usually, pumps should be located as closely as possible to the area to be concreted last.
Effects of Weather Extremes
Hot Weather: Since concrete sets faster in hot weather, slow or intermittent pumping is necessary if delays in placement are anticipated. Also, wet burlap can be wrapped around pipelines to cool the concrete by evaporation.
Cold Weather: During cold weather, concrete is in danger of freezing in exposed lines. Exposed lines should be run through enclosures or wrapped in insulation to prevent freezing.