Heavy Haul
BLT Companies offers numerous types of conventional and non-conventional hauling trailers for many types of loads.
Our fleet of trailers has transported everything from excavators and motor homes to monster trucks and sea-going containers.
Our extensive experience over the years in heavy haul transportation has been highlighted by the safely and reliably jobs for our customers through the years.
We Offer:
16 tire 5 axle set ups
16 tire 7 axle set ups
5 axle beam trailers
9 axle beam trailers
rail road extension rails
basketing
Flatbed extendables
9 axle, Triple 16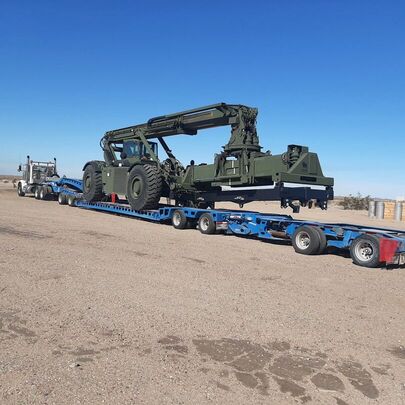 BLT Standards Terms, Conditions & Exclusions: The following terms, conditions and exclusions shall control and take precedence over any provision(s), term(s) and condition(s) to the contrary in any purchase order, contract or other document, and in the event of the absence of a subsequent agreement.
HOURS: All hours will be based on an 8-hour day, 40 hour week. Lessee agrees to notify Lessor if extended hours are needed. Any hours past an 8-hour day, 40-hour week, will be charged an additional rate. Overtime (OT) rates will apply for work performed during the workweek (Monday-Friday) before 5 A.M., after 4 P.M. or after eight (8) hours of work has been performed in any one (1) day. OT rates will also apply to work performed on Saturday. Doubletime (DT) rates apply: (1) during the workweek, after twelve (12) hours of work has been provided in any one (1) day; (2) on Saturdays after ten (10) hours of work has been performed; and (3) on Sundays. Tripletime (TT) rates will apply on Sundays after twelve (12) hours of work has been performed, and for any amount of work performed on a holiday.
These rates do not include fuel surcharges which is based on the daily index. Please call dispatch for the daily fuel surcharge.
These rates do not include any additional charges which may be applied based upon federal, state, local and/or tribal laws, regulations or provisions.
Four hour minimum on all Arizona crane jobs, except boom truck crane, and eight hour minimum on all California crane jobs.
Summer time heat may result in mobilization or demobilization of equipment to occur on different days at additional expense to customer.
Cancellation after dispatch will be subject to two-hour minimum charge of the crane/equipment requested.
If applicable, subsistence is based on today's rates. Please call dispatch for daily rates.
Any safety, environmental or other class(es), required by Buyer/Contractor or Owner, will be charged at a separate quoted hourly rate.
Military base access, badge requirements, runway passes, FAA clearances, MSHA requirements or other clearances and any requirement directed by owner or contractor are the responsibility of the customer. BLT will require prior notice if access is necessary. Customer will be billed at an hourly fee.
Any quote provided expires as of the date expressly written on the bid or, if no expiration date is provided, 30 days after the date of this quote.
Quoted prices are subject to change, even after Buyer/Contractor has accepted the bid. Any change made to the specifications originally presented to BLT may affect the quoted price, whether the quoted job is underway and/or change orders are to be received.
Any quote provided is only a quote and is not intended to serve as a contract or purchase agreement. Quotes sent by BLT do not commit BLT to perform or execute the quoted job.
Buyer's/Contractor's signature is required upon execution of the job. If Buyer/Contractor cancels the job, cancellation fees shall apply regardless of the reason for the cancellation.
Under no circumstances shall Buyer/Contractor retain any monies due to BLT.
All equipment is charged port-to-port at the full rate.
All roads must be passable with trucks.
Jobs and/or orders placed over the phone are voice recorded for quality assurance and clarity.
Curb release: Drivers are prohibited from delivering concrete beyond the curb line, unless by customer's written authorization acknowledging acceptance of risk for any loss or damage to the property or our equipment, including wrecker/towing charges. By signing the Curb Release section on the delivery ticket, customer acknowledges and accepts that BLT assumes no responsibility for damages inside the curb or property line.
Restrictions & Exclusions:
All quotes exclude: bonding; sales tax; and compliance with all federal, state, local and tribal laws and regulations, including, but not limited to, the Davis-Bacon Act and other wage provisions.
In the event of any delays or cancellations resulting from BLT's performance or actions, BLT shall not be liable for any damages or expenses, incurred by Buyer/Contractor or others, as a result of any such delays or cancellations.
Buyer/Contractor is responsible for all outside equipment, labor, expenses, and scheduling if BLT has a scheduling or break-down conflict and equipment is needed.
BLT is not responsible for, and will not pay, stand-by fees/expenses to any Buyer/Contractor or Vendor if any plant goes down for any reason.
BLT is not responsible for any charges incurred in relation to rail car services, such as demurrage fees or wear and tear.
Lessor hereby leases to Lessee and Lessee hereby leases from Lessor, the equipment described on the reverse side hereof, subject to the following terms and conditions.
STATUS: Lessor acknowledges and agrees that equipment and operational personnel, including Lessor's employees – leased hereunder shall be at all times under the exclusive supervision and control of Lessee. Lessee further acknowledges and agrees that all individuals associated with the operation of the lease equipment, including but not limited to Lessor's employers and signal persons, shall be deemed an agent or employee of the Lessee.
OPERATED BY LESSEE: Lessee shall ensure that competent and experienced individuals are employed to direct the use and operation of the equipment. Lessee shall further ensure that Standard Crane and Derrick Signal in compliance with American Standard 830-2-1943, are utilized in the operation of the leased equipment at all times. Lessee shall insure that the leased equipment shall be utilized in accordance with the manufacturer's specifications for the leased equipment: including, but not limited to: rated load capacity, counter weight and under tying support.
CONFORMANCE TO LAWS: Lessee agrees to use the equipment in strict conformance with all applicable local, state, and federal rules, law, regulations and orders.
LIFTING LUGS: Lessee assumes all liability for the adequacy of design and strength of any lifting lug or device embedded in or attached to any object. Lessee shall be solely responsible for the weight designation of any object within a variance not to exceed ten percent (10%).
LIENS: Customer agrees to supply all the information required by company for the completion of any preliminary lien notice.
BLUE STAKING: It is the responsibility of Lessee to contact Blue Stake and to have all necessary staking done prior to Lessor's equipment being used on the job. If Lessee does not comply with Blue Stake regulations, Lessee is to be held liable for any damages caused by Lessee to Lessor's equipment.
INDEMNIFICATION AND RISK OF LOSS: Lessor and Lessee agree that the leased equipment and all persons operating such equipment including Lessor's employees, will be under Lessee's exclusive jurisdiction, supervision, and control during the time such equipment and operators are on the Lessee's job site. The Lessee agrees to indemnify Lessor against any and all claims, actions, proceedings, costs, damages and liabilities arising in any manner out of, connected with, or resulting from the operations of handling of the leased equipment on Lessee and Lessee's job site, including, without limitation, any injury, disability or death of workman, or other persons, and any loss or damage to property whether the liability loss or damages caused by, or arrives out of the negligence of Lessor's employees or otherwise Lessee's duty to indemnify hereunder shall include all cost or expense arising out of, or connected with, all claims specified herein including all court and/or arbitration costs, filing fees, attorney's fees and costs of settlement; and Lessee further agrees to indemnify Lessor against all loss of or damage to leased equipment which occurs while said equipment is on lessee's job site.
LIMITATION OF WARRANTIES: Lessee acknowledges that the leased equipment is of a size design, capacity, and manufacturer selected by Lessee. Lessor has not made, and does not make, any representation, warranty, or covenant, express or implied, with respect to the conditions, quality, durability, or suitability of the leased equipment. Lessor shall not be liable to Lessee for any liability, loss or damage caused or alleged to be caused, directly or indirectly be the leased equipment, by and inadequately thereof, or defect therein, or by any incident in connection therewith, including, without limitation, any loss, delay, or stoppage due to breakage, concrete loss, failure of the leased equipment, or from late arrival for scheduled pour.
EXCUSE OF PERFORMANCE: Any prevention, delay, or stoppage due to strikes, lockouts, labor disputes, acts of God, inability to obtain labor or materials or reasonable substitutes therefor, governmental action, domestic or foreign, riot, civil commotion, fire and other casualty and all other cause beyond the reasonable control of Lessor shall excuse a Lessor's performance for a period equal to such prevention, delay, or stoppage. Lessee hereby waives all claims against Lessor for any delay or loss of materials by reason of shutdown, or failure of the equipment for any reason.
COMPLETE ASSIGNEMENT: This rental agreement supersedes and cancels any prior lease or other agreement, wither oral or written, between the parties hereto with regards to the leased equipment and may not be modified except in writing and signed by both parties or their duly authorized representatives.
NO OTHER AGREEMENT: Except as otherwise mutually agreed in writing, this document constitutes the complete agreement of the parties and supersedes all other agreements or understanding, written or oral. If any provision herein is invalid, it shall be considered deleted from this lease, and shall not invalidate the remaining provision of this lease.
UPON ACCEPTANCE: It is agreed that the agreement shall be regarded as an ARIZONA contract, to be governed and construed according to the laws of Arizona.
TAXES: All taxes or assessments on our services are to be paid by the customer.
TERM OF PAYMENT: Full payment of rental charges, according to the reverse side, is due upon completion of service, unless prior arrangements have been made. If prior arrangements have been made, full payment is due on the 10th of the month following the date of the invoice. On a one half (1 ½) percent per month service charge on all accounts over fifteen (15) days or annual percentage rate of eighteen (18) percent. Should the Lessee be in default by virtue of his failure to pay rental charges billed or if litigation is necessary to enforce this contract, Lessee agrees to pay for all costs of collection, including all court and /or arbitration cost, filing fees, attorney's fees, and costs of settlement.
By execution of the agreement and terms of conditions of rental contained herein, the Lessee consents to the jurisdiction and venue of either the county or district court for the City of Yuma and County of Yuma. Nothing herein shall be construed to limit or restrict another venue in order to pursue any statutory rights or remedies.