Sand & Gravel
Materials are transported to the Concrete Batch Plant from the Aggregate Pit located on Highway 95, just 15 miles north of Yuma.
Our Peterbilt Super 16 Dump Trucks have the capacity to haul an average of 23 tons, and our beall bullet trailers can carry up to 27 tons.
The source of material is derived from the Gila Mountains, conveyed under Union Pacific Railroad tracks to a crushing plant.
At this site, the crushing plant consists of a Pioneer 30" x 42" Jaw Crusher, Kodiak 400 cone crusher and ISC77 VSI Crusher. Approximately 2,500 feet of conveyor belts deliver product to the appropriate destinations.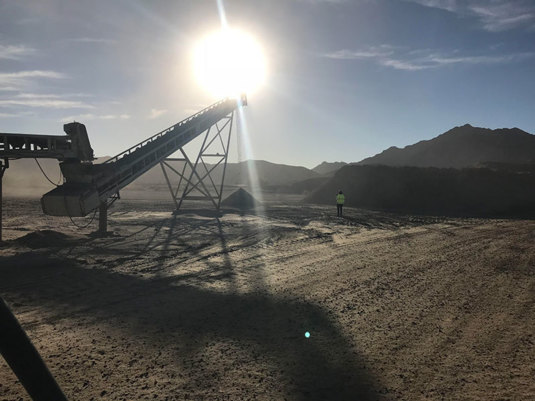 Our central dust collection system is on site to eliminate crusher dust.
Materials provided include:
Wet Plant - Material is elevated 75 feet in to the air, gravity dropped through log washers, blade mills, sand screens, durability cells, course material washers and final rinse and dewatering screens all to scrub rock and remove clay particles from the finished concrete products which are:
1" minus rock
3/8" minus rock
1 1/2" minus rock
concrete sand
Environmentally Friendly & Reclamation - Our plan on waste disposal is a "state of the art" belt process that allows us to retain 90% of our water usage back in to our wet plant leaving us a dry mud used by farmers as top soil.
Aggregate Calculator
Aggregate Volume
NOTE: This Calculator should be used as an estimating tool ONLY. BLT Companies is not responsible for any discrepancies in material based on calculations made with this application.