Sand & Gravel
Materials are transported to the Concrete Batch Plant from the Aggregate Pit located on Highway 95, just 15 miles north of Yuma.
Our Peterbilt Super 16 Dump Trucks have the capacity to haul an average of 23 tons, and our Beall bullet trailers can carry up to 27 tons.
The source of material is derived from the Gila Mountains, conveyed under Union Pacific Railroad tracks to a crushing plant.
At this site, the crushing plant consists of a Pioneer 30" x 42" Jaw Crusher, Kodiak 400 cone crusher and ISC77 VSI Crusher. Approximately 2,500 feet of conveyor belts deliver product to the appropriate destinations.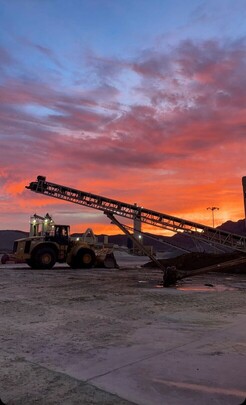 Our central dust collection system is on site to eliminate crusher dust.
Materials provided include:
Wet Plant - Material is elevated 75 feet in to the air, gravity dropped through log washers, blade mills, sand screens, durability cells, course material washers and final rinse and dewatering screens all to scrub rock and remove clay particles from the finished concrete products which are:
1" minus rock
3/8" minus rock
1 1/2" minus rock
concrete sand
Environmentally Friendly & Reclamation - Our plan on waste disposal is a "state of the art" belt process that allows us to retain 90% of our water usage back in to our wet plant leaving us a dry mud used by farmers as top soil.
Aggregate Calculator
Aggregate Volume
NOTE: This Calculator should be used as an estimating tool ONLY. BLT Companies is not responsible for any discrepancies in material based on calculations made with this application.
TERMS & CONDITIONS
Aggregates pass gradation spec at BLT Crushing Plant. "Yuma Grey" only, non-color, non-deco. 
Demo dump fee $15.00 per ton @ BLT Pit (concrete and asphalt only; 1' max; no rebar, trash, plastics, veg, metals, etc.).
Most aggregate inventory is already allotted for current jobs thus the customer must place orders prior to arrival to the plant or for delivery. Contact dispatch for availability. BLT will continue to produce spec material as per City and County (MAG) spec when directed.
All testing is based on FOB at the plants, which is industry standard material supplier practice. It is the responsibility of the contractor to understand that once products, such as sand and gravel, leave our plant whether via FOB or delivery truck, the consistency and quality then becomes out of our control as it is then the contractors' responsibility to maintain that material as it was originally sold.
The means and methods of best business practices are the exclusive rights of each contractor to understand the entire QC process.  Customer is responsible for all specs and testing to include all aspects of Quality Control. QC is available to customers during BLT's production of material, with prior notice. 
BLT's facility is an open pit mine, thus, BLT is not responsible for bird droppings, free seedlings and other wind-blown vegetation that may germinate from wind-blown seeds and are natural acts of God.
EXCESS WATER
CONCRETE ENEMY NO. 1
EXCESS MIXING WATER IS HARMFUL TO CONCRETE QUALITY. THE FOLLOWING CHART ILLUSTRATES THE STRENGTH LOSS BY THE ADDITION OF WATER IN EXCESS OF NORMAL REQUIRMENTS FOR STRENGTH AND WORKABILITY.
| | | | |
| --- | --- | --- | --- |
| GALLONS OF WATER ADDED PER CUBIC YARD OVER SLUMP ORDERED | SLUMP INCREASES (INCHES) | % OF STRENGTH REDUCTION | POUNDS REDUCED P.S.I. |
| 1    |  1/2 | 4 1/2 | 115 |
| 1 1/2 | 1    | 6 1/2 | 225 |
| 2    | 1 1/2 | 8 1/2 | 300 |
| 3    | 2    | 13    | 450 |
| 4    | 2 1/2 | 17 1/2 | 600 |
| 4 1/2 | 3    | 19 1/2 | 675 |
| 5    | 3 1/2 | 21 1/2 | 750 |
| 6    | 4    | 26    | 900 |
| 7 1/2 | 5    | 33    | 1150 |
| 9    | 6    | 40    | 1400 |
REMEMBER – QUALITY CONCRETE IS EVERYBODY'S RESPONSIBILITY
WARNINGS
EXCLUSIONS OF WARRANTIES: Except as expressly described on the face of the ticket, the parties agree that the implied warranties of MERCHANTABILITY and FITNESS FOR A PARTICULAR PURPOSE and all other warranties, express or implied, are EXCLUDED from this transaction and shall not apply to the goods sold.
Purchaser acknowledges that under certain conditions, the aggregate used in producing the concrete can be alkali reactive. This reaction can have a detrimental effect on the concrete. Purchaser accepts responsibility for the results of any such reaction.
Concrete is a perishable commodity and becomes the property of the purchaser upon leaving the plant. Any changes or cancellation of original instructions must be telephoned to the office before loading starts. Maximum free unloading time is 6 minutes per yard.
Freshly mixed cement, mortar, grout, concrete or asphaltic concrete materials may cause skin irritation. Asphaltic concrete material may release Toxic Hydrogen Sulfide Gas. Avoid contact when possible and wash exposed skin promptly.
Not responsible for any damage on delivery inside curb line. No claim allowed unless made at time of material is delivered.
CERTIFICATION
The purchaser of the items set forth on the attached invoice agrees to pay all collection costs, including reasonable attorney's fees.
This certification is made for the express purpose of permitting the seller of said items to claim an exemption of sales tax with respect to this sale, which tax would have otherwise been charged to the purchaser in addition to the price of said items.